Vineyards & Biodynamic farming

Vineyards and biodynamic
farming
Biodynamics or the art of using the gifts and vital forces of nature to create exceptional products. A word to translate a history of links between the cycle of Nature, the vines, the climate, the work of men associated with the demanding techniques of agronomy.

A term to attest to a sustainable viticulture method, in a concern for the balance of the plant and in the name of the expression of a terroir.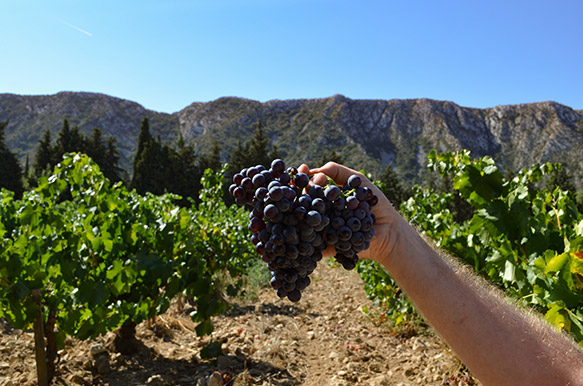 Biodynamie
depuis 1988
Nestled in the heart of a unique natural setting, Château Romanin has been using biodynamic techniques since 1988, when it was created by Jean-Pierre Peyraud (investor) and Jean-André Charial (owner of Relais & Château L'Oustau de Baumanière).

With organic farming as a prerequisite, biodynamic farming seeks to rehabilitate and reinvigorate the exchange between the plant and its environment. L'objectif de Château Romanin est d'obtenir des baies de raisin de meilleure qualité pour des vins exceptionnels. Intensifying organic life and its environment allows us to generate a production that honors the terroirs.

In this approach, chemical weed killers are banned! Evidence. To care for, nourish and preserve the plants, the men work on preparations-sprays based on plants and minerals, Bordeaux mixture, sulfur, horsetail decoction, or even valerian, nourishing water.
According to its location, the typicity of its soil (porous, clay-limestone and stony), each vineyard of the estate asserts its particularity and its assets, in interaction with the elements and the stars, worked with meticulousness and constant attention by the Men of Château Romanin.

Before loving wine, one must love grapes, learn to observe and taste them to be able to identify the right degree of maturity of the plots and the best time to harvest.

As the seasons go by, the best bunches of grapes, respected in their evolution and in the respect of rigorous specifications, will give full-bodied, airy wines, rich in blends, all in freshness and balance.
Demeter and Biodyvin certifications
The wines of Château Romanin respect the rigorous specifications in order to be certified Demeter for the red wines* and Biodyvin for the three colors. These accredited organizations bring the guarantee that the domain, fulfills all the conditions of the biodynamic agriculture.